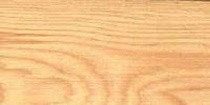 Fir Pine
WOOD APARENCE
PHYSICAL AND MECHANICAL PROPERTIES
MECHANISATION
APPLICATIONS

Heartwood: Reddish yellow.

Sapwood: White.

Grain: Medium to fine.

Fibre: Right.

Defects: Small, sound knots or very abundant jumping knots.

Density: 450 Kg/m3.

Stability: 0,44% stable wood.

RESISTANCES:

Bending: 710 Kg/cm2.

Comprenssive: 450 Kg/cm2.

Sawing: Easy.

Drying: Fast.

Planing: No difficulty.

Gluing: Good.

Screwing: Tendency to crack.

Finish: Uneven stain.

Interior carpentry of panelling, friezes, frames, frames, mouldings, skirting boards.

Laminated wood (beams).

Decorative veneers.

Containers and packaging.