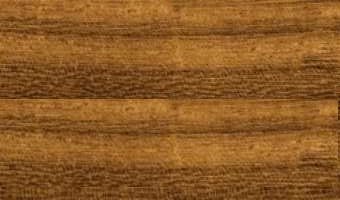 Iroko
WOOD APPEARANCE
PHYSICAL AND MECHANICAL PROPERTIES
MECHANISATION
APPLICATIONS

Heartwood: Yellowish white turning reddish-brown in the light.

Sapwood: Yellowish white.

Grain: Medium to coarse.

Fibre: Straight, often slightly intertwined.

Density: 650 Kg/m3

Stability: 0,36 % stable wood.

Hardness: 3,9 semi-hardwood.

RESISTANCES:

Bending: 1750 Kg/cm3.

Comprenssive: 890 Kg/cm3.

Sawing: Not difficult, except for calcareous deposits.

Drying: Medium to slow.

Planing: Well, except for its abrasiveness and repellency.

Gluing: Problems with casein glues.

Screwing: No problems.

Finish: Tannis that inhibit the drying of oxidising varnishes, such as polyrethanes and others.

Outdoors furniture, parks and urban gardens.

Interior carpentry doors, staircases, cladding, mouldings, skirting boards, friezes, floorboards.

Exterior carpentry , doors and windows.

Interior and exterior carpentry.

Decorative veneers.