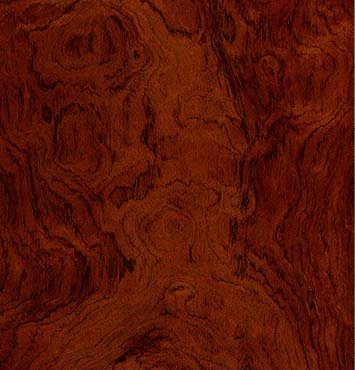 Bubinga
WOOD APPEARANCE
PHYSICAL AND MECHANICAL PROPERTIES
MECHANISATION
APPLICATIONS

Heartwood: Reddish brown to red.

Sapwood: Reddish white.

Grain: Fine.

Fibre: Straight, or slightly interwined.

Density: 910 Kg/m3.

Stability: 0,47% nervous wood.

Hardness: 8,4 very hard wood.

RESISTANCES:

Bending: 1560 Kg/cm2.

Comprenssive: 720 Kg/cm2.

Sawing: Difficult because of hardness.

Drying: Slow.

Planing: Difficult because of hardness.

Gluing: No problems.

Screwing: Knockouts.

Finish: No problems.

Indoor and outdoor furniture and fine joinery.

Turned and curved furniture.

Interior and exterior carpentry.

Decorative veneers.