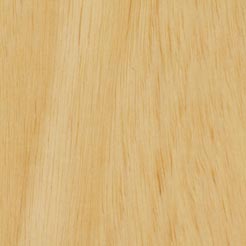 Ayous or Samba
WOOD APPEARANCE
PHYSICAL AND MECHANICAL PROPERTIES
MECHANISATION
APPLICATIONS

Heartwood and Sapwood: Creamy white to pale yellowish white.

Grain: Medium to rough.

Fibre: Straight, sometimes slightly interwined.

Density: 380 Kg/m3.

Stability: 0,33 % very softwood.

Hardness: 1,2 softwood.

RESISTANCES:

Bending: 620 Kg/cm2.

Comprenssive: 285 Kg/cm2.

Sawing: No problems.

Drying: Fast and easy.

Planing: No problems.

Gluing: No dificulties.

Screwing: No dificulties.

Finish: No dificulties.

Interior furniture.

Interior carpentry.

Pinture frames.

Plywood boards.

Packaging.